If you love cooking like I do it doesn't seem like work to make things from scratch versus buying a prepared mix. 
After all, cooking enthusiasts love the process of creating a dish from start to finish.  Call us crazy, but we thrive on it. 
Cooking and baking from a packaged mix is a convenience and time saver,  especially in today's fast-paced world, and sometimes it makes a lot of sense, but it does come at a cost…and that cost is usually a less flavorful result than what a homemade version produces.
This recipe which comes from fellow food blogger, In Jennie's Kitchen, for homemade waffles is a win win. It is convenient  and quick, and the ingredients are most likely in your pantry already.
The waffles are crisp on the outside and tender on the inside, and whether dripping with real Vermont maple syrup and/or topped with delicious berries you will want to make them over and over again.
Here is the recipe from Jennie herself…
Quick & Easy Homemade Waffles
Makes 5 to 6 Belgian-style waffles
You'll never use a mix again after you try this super easy recipe. 

1 3/4 cups flour
1 tablespoon baking powder
1/2 teaspoon salt
1 3/4 cups milk
2 large eggs
1/2 cup melted butter
1 teaspoon vanilla extract
Whisk the flour, baking powder and salt together in a medium bowl. In another bowl, beat the milk, eggs,  melted butter and vanilla extract. Pour the milk mixture over the dry mixture and stir with a fork until just combined. Let sit five minutes to "develop" (just a fancy word for letting the baking powder activate).
Meanwhile, heat your waffle iron. Pour, or ladle, enough batter to cover about 2/3 of the surface (the rest will spread once you close the top). Most waffle irons have a handy light that goes on or off, signaling the waffles are ready. A sure sign of doneness is once you see all the steam has stopped shooting out.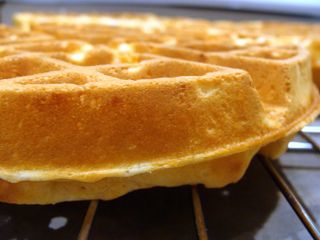 It's hard to believe that it is officially 2014, and I am still trying to catch up with blogs I wanted to post in 2013.
It has been a little over a month since we moved into our house.  While many things have not found their permanent home as yet, at least they are unpacked and the boxes are thrown out.  There is still much to do to make it home.
We took a break from it all for a couple of weeks to welcome my sister who came to spend the holidays with us, her first visit here to San Luis Obispo.
Leaving the cold and snow in Pennsylvania behind her, she enjoyed, as did we, our first Christmas and New Year's in this beautiful Mediterranean climate we are lucky enough to now call home.
Since we had just moved in two days before Thanksgiving, and I wasn't able to cook  what is my most favorite meal, Thanksgiving Dinner,  I decided that I would make a Thanksgiving Dinner  for Christmas. 
For years now,during the weeks before Thanksgiving I love to listen to the Martha Stewart Show on XM Sirius radio.  The format always involves guest chefs and callers sharing their holiday menus, both traditional as well as  familiar dishes done with a new twist.
This year Martha Stewart Living test kitchen introduced a new way to roast a turkey that I found very intriguing and had wanted to try. 
It involved roasting your turkey slathered in butter, but wrapped completely  in parchment for several hours, then raising the oven temperature, unwrapping the turkey and putting it back in the oven to brown.
Wrapped in the parchment for the majority of the roasting time really seals in the juices resulting in a deliciously moist bird. 
Removing the parchment and continuing to cook the turkey at a higher temperature for 45 minutes to an hour ensures an especially golden brown crispy skin.
Although Martha roasts her turkey stuffed I prefer to roast my Mom's Stuffing in a separate casserole dish. 
If roasting the turkey unstuffed you will want to lessen  your cooking time accordingly.
Be sure to check the temperature with an instant read thermometer.
My sister, husband and I all agreed this was a wonderful way to roast a turkey, and I'm certain I will be doing it again.
Here's the link to the recipe…
http://www.marthastewart.com/1040385/roasted-turkey-parchment-gravy
Here's Martha herself showing how it's done on The Today Show…
The past couple of weeks we have found ourselves up to our ears in unpacking since having moved into our new home in San Luis Obispo's downtown on November 24th. 
It is a labor of love seeing for the first time in a long time so many of our possessions.  Uncovering  my dishes, utensils, cookware, small appliances, vases, flower pots, etc. is like being reunited with an old friend after a long separation.
Leaving it was equivalent to leaving a very old friend with whom I spent countless hours happily cooking, baking and creating. 
So now I have another beautiful kitchen, a bit larger and a different layout with high ceilings and  lots of windows (which I love) in a totally different setting. 
It will take some time I'm sure for us to become as good friends, but with each dish I prepare I know I will be one step closer.
I realized I didn't have any Pecorino Romano ( which goes into the meatballs as well as freshly grated on top of the sauce ) just abut the same time that my husband phoned on his way home to see if I needed anything.
Coincidentally he was just checking out a new little cheese shop in our wonderful downtown.  It was my lucky day!  He brought me home some delicious imported Pecroino Romano from
Fromagerie Sophie
which only opened a couple of weeks ago.
We stopped by yesterday on our way back from the Thursday evening Farmer's Market and I got a chance to check out Sophie's cheese shop myself.  I told them that I loved the Pecorino Romano and that I am in the neighborhood and they will be seeing a lot more of me!
I have much to be thankful for.

We moved into our new home  two days before Thanksgiving.  As much as I had hoped to cook Thanksgiving dinner here it was not to be.  And even I had to accept that, try as I might to figure a way to do it.

We just cut it a bit too close.  The days before the move we spent moving out of the rental apartment, and the day of the move was a very long day, to say the least.

And Wednesday we began unpacking the first of the 300 boxes that made the trip from Maryland the end of June, and were finally released from the confines of the warehouse where they have been stored these past five months.

The important thing is our children were with us, and we had a wonderful dinner at an excellent restaurant located at a beach resort overlooking the Pacific Ocean .  We ate on the lovely patio and watched the sunset from our table.

Dining in this astonishingly beautiful setting and looking into the faces of our sons sitting across from us both my husband and I realized the journey we began a couple of years ago which has had more than a few twists in the road was complete.

And we couldn't be happier.

After many years of being on two different coasts we are now within several hours of each other.

We are in a brand spanking new (as my son says) home, in a storybook town, and we are very eager to make it ours.

As you probably may have heard, this year Hanukkah began the evening before Thanksgiving so for the first time in very many years we lit the menorah with our children.  On Friday morning I decided to make potato latkes for breakfast with homemade applesauce.  I had made the applesauce at the apartment the night before we moved.

It was my first time cooking on the new gas range and I had two skillets going. It felt great!

 And while I was busy with that both of my sons and my younger son's girlfriend were helping us with the monumental unpacking.  In fact I couldn't mix the latkes until my younger son finally located the box with the mixing bowls. Miracle of miracles!

We spent several hours in the afternoon at one of the the local vineyards (10 miles from our door) , and again I felt like I had to keep pinching myself as we shared a wine tasting together overlooking the vineyards.

So in the next weeks we will be continuing to unpack, and I will be learning my way around this new kitchen.  Can't wait to share some new recipes with you very soon!

Happy Thanksgiving and Happy Hanukkah !
One of the most popular cuts of beef here on the central coast of California is the tri tip.

It is everywhere here in San Luis Obispo - numerous stands at the weekly Thursday night farmer's market serve it up grilled in a sandwich, complementary platters of grilled tri tip are served to all season ticket holders at the Cal Poly Football games, and it has a prominent place in the meat department of all the food markets and groceries here.  You've heard of steak and eggs…in SLO it is not unusual to see tri tip and eggs on the breakfast menus.

I don't have access to a grill  in the apartment so I roasted the tri tip we had for dinner the other evening.

It was super delicious, and I think the key was marinating it overnight and not overcooking it.

Here's the marinade I used:

For a 2 and 1/2 to 3 # tri tip mix together:

1/4 cup fresh lemon juice
1/4 cup fresh lime juice
1/4 cup canola oil
2 T sugar
2 T soy sauce
1 T freshly ground black pepper
2 T garlic salt
2T chopped fresh garlic

Place the tri tip in a plastic bag and pour the marinade over.

Place the sealed bag on a large plate and refrigerate for 6 hours or overnight, turning occasionally.

When ready to cook, remove from plastic bag, and wipe off excess marinade and discard the marinade from the bag.  

Season with some coarse kosher salt and coarse ground black pepper.

Roast in a preheated 450 degree oven.  Turn when brown, and continue roasting until thermometer registers medium rare, anywhere from 25 to 35 minutes depending on the size of your roast.  
Allow to sit covered loosely with foil for 10 to15 minutes.

Serve with sautéed mushrooms.

Here are some facts about tri tip…

For years the beef tri-tip found itself being ground into hamburger or cut into cubes and sold as soup meat. The reason for this is that there is only one per side of beef and in the days when butchers carved their own meat it was considered a waste of display space to sell the tri-tip by itself. Now that the carving is done by packers you are much more likely to find the tri-tip at your local butcher. If you don't see it, ask for it. This often overlooked piece of meat is not only relatively inexpensive, but also very flavorful and has become a favorite amongst those in the know.

The tri-tip roast or steak (also called a triangle roast) is the 1 1/2 to 2 1/2 pounds of meat that sits at the bottom of the sirloin. Not only does it have a rich flavor, but also tends to be lower in fat than most other cuts. Of course, this means that it can dry out faster, but with a good marinade you really can't go wrong with this cut. Good seasonings and marinades for tri-tip are those inspired by Southwestern or Asian flavors.

The versatility of tri-tips is another factor that makes them great. Uncut, it's a fantastic roast that should be grilled indirectly for 30 to 40 minutes. You can also cut the tri-tip into 1-inch steaks, that grill up in about 8 minutes over a low to medium direct heat. As always, let your steak (or roast) sit for 5 to 10 minutes before you carve or serve it. This allows the juices redistribute and evens out the heat.

Because tri-tip is lean, be careful not to over cook it, particularly when preparing the full roast. Medium is as far as you should go with this cut. Use a meat thermometer to make sure you get it right where you want it. If you are used to grilling other cuts, this one can throw some grillers off by appearing underdone when it is ready to serve.
The calendar reads November, daylight savings time has ended, and there is an appropriate chill in the air, all facts confirming we have entered the pre-holiday season.
First up will be Thanksgiving which will arrive this year just a week from this Thursday! 
And if that is not enough, this year Hanukkah arrives especially early, with the lighting of the first candle on the menorah taking place the evening before Thanksgiving.
Normally, by now I would have been happily immersed in holiday planning, but this year that planning was to occur in my new home, the cooking in my new kitchen, and the dining around our new dining table.
Now I'm not saying it won't happen, I'm just saying…we are not there yet.
So we are anxiously awaiting our final walk through, or should I say run through, so we can get the keys, arrange the move in date, unpack the kitchen (kinda) and sit down to Thanksgiving Dinner with our children in our new home here in downtown San Luis Obispo!
Keep your fingers crossed.  You will know almost as soon as I do !
In the meantime we are still enjoying life in our studio apartment, and I have managed to continue to prepare meals for us most of the time.
Here are a few of the dinners I have made lately.
While my current kitchen is well equipped with the basics it is compact and lends itself to simpler meals. 
Many of them are dishes from my blog which I made in my east coast kitchen, with one big difference…there I could spread out,  here, not so much.
So, as with life we make adjustments.  And I have.
There are the Pan Fried Pork Chops with Sauteed Apples…
Season the chops generously with kosher salt, pepper, and some minced fresh rosemary.  Bring the chops to room temperature before browning both sides in a pan on the stovetop  in a small amount of olive oil and a bit of butter.
To the same pan I add thick slices of peeled apples (which have macerated a bit in a little sugar and lemon juice).
Continue to cook them in the pan with the chops on moderate heat, and they will soak up the yummy juices.  Continue cooking til they begin  to caramelize, but are not mushy, and they will be a stellar accompaniment to the pork chops.
With just 3 russet potatoes I made a quick rendition of mashed potatoes, substituting some of the pan juices from the pork and apples for gravy.
Then there was the Chicken Tenders Parmesan…
…using chicken tenders instead of boneless breasts the breading process was quicker and took up less room.
I made a quick tomato sauce with some good quality canned tomatoes.  I simply mashed them with a fork and potato masher since there is no food processor or blender here.
I added the tomatoes to some sauteed onions, garlic, and oregano, added a splash of white wine, and cooked slowly til thickened.
For the breading:
1st…dredge lightly in flour seasoned with salt and pepper
2nd..dip in lightly beaten egg
3rd…dip in Panko (Japanese breadcrumbs) to which you have added grated Pecorino Romano (or Parmesan) cheese.  Press gently so crumbs adhere.
Note:  For more detailed directions on breading and frying see blog post on Chicken Milanese.
When ready to serve, spoon some tomato sauce on the bottom of the pan, as well as on top of each piece of  chicken, and sprinkle with some shredded mozzarella cheese.  Sprinkle some extra Pecorino on top.   Return to oven and remove when cheese is melted and the chicken is heated through.
Serve with pasta and some extra sauce.
I also made the Chicken with Olives and Tomatoes…
This is a one pan dish if you have prepared the roasted tomatoes in advance.  There will be enough roasted tomatoes left to use for some other meals… as a sauce for pizza, bruschetta, or pasta.
I've previously posted the recipe for it here.
Leftovers from these roasted potatoes, fennel, carrots and onions became hash browns for brunch on Sunday.
Just added some green onions and red pepper and browned in butter!

Served with sunny side up eggs and fresh Valencia orange juice squeezed by hand (literally, no juicer of any kind here) by my husband!

Bought the Valencia's at the farmers market. Hand picked the day before…love it !!!
The past couple of weeks I have been fighting a cold/ allergies (still not certain which), and consequently it has been quiet in the kitchen except for the pot of chicken soup which has seen me through these past days.  There is definitely something magical about that homey brew which seems to be the sole source of comfort sometimes when I am sick.

So one evening last week I mustered the energy to attempt to make a dinner with what remained in the fridge.  You can always find something to stir-fry , and I did with a package of frozen chicken breast tenders in the freezer, and an assortment of fresh vegetables in the crisper.

With only some soy sauce in the pantry, and some fresh garlic and ginger, that with a bit of my homemade chicken broth would provide the flavoring.

One of the things I do to ensure a velvety texture to the diced chicken pieces is to marinate it with a little cornstarch, and in this case soy sauce. When I have it I use some Mirin or even white wine or dry sherry as a substitute.  Add a little salt and pepper if you like.

In a tablespoon of canola oil (in this case), I sautéed some slices of ginger and garlic til fragrant.  Then I added the chicken pieces stirring til no longer pink, but not overdone, and set them aside on a plate.


To the hot pan add another bit of oil if necessary, and stir fry all the cut up veggies with a bit of salt and pepper.

When still crisp and brightly colored add back the chicken and combine.

Mix 1 tablespoon corn starch with a little water.  Add this to some chicken broth (1/4- 1/3 c) and  1-2 tablespoons soy sauce.

On high heat add the chicken broth mixture to the veggies and chicken and cook until  the sauce begins to thicken, and the veggies and chicken are heated through.  Do not overcook.  Crisp, bright veggies are what you want.

At this point I like to remove everything to the serving dish but the sauce.  Continue cooking the sauce til it reduces, thickens more, and almost forms a glaze.  Pour over the stir fry, serve with some brown rice and enjoy!
I first posted this recipe in October of 2010.  This delicious autumnal bread resonant with those familiar spices found in a slice of pumpkin pie symbolizes to me the arrival of fall.  
Finding myself this year on the opposite coast experiencing a completely different climate and terrain than what we have known, I anticipated missing the stunning beauty that is autumn on the east coast.  
For the  last 25 years we lived on a street lined with a type of maple tree called October Glory, and the name says it all.  Each year our entire street was magically transformed underneath a beautiful orange canopy when the fall foliage was at its peak.  
So naturally I will miss anticipating that beautiful show this season.  
However, when walking  back to our apartment from downtown the other day I was thrilled to see these trees across the street. Notice the gorgeous mountains in the middle.
These same mountains will be surrounding our new home, with breathtaking views from almost anywhere in this charming town.
I was instantly reminded when viewing this snapshot that although I have moved from a street, village, city, state, coast where the colors of autumn reign supreme I have moved to an amazing new place filled with so much natural beauty and an almost perfect climate enabling us to enjoy it year round.
So baking this pumpkin bread yesterday seemed most appropriate, even before I realized that the calendar announced it was the first of October!
I had to tweak a couple of things from the original recipe…
Although I always make it in a loaf pan, I don't have a loaf pan in this kitchen.  I substituted a 9 inch square baking  pan.  (A 9x5 inch loaf pan and a 9inch square pan each hold 8 cups…love that google).
So all I had to do was cut back on the baking time by about 15 minutes.
Whereas I usually use the individual spices of cinnamon, nutmeg, ginger, and allspice I was excited to find these cute tiny boxes of various organic spices, and in particular a pumpkin pie spice.
I avoided having to buy a bottle of each spice which is a good thing
since all my spices are snugly packed away in boxes in storage at the moment,  eagerly awaiting their arrival to the new kitchen!
Fortunately an electric mixer isn't necessary for this pumpkin bread so in no time at all this…
became this…
So to help get you into the fall spirit, why don't you bake up a quick pumpkin bread…either in a loaf pan or a square pan,  it is delicious!
Last week we moved out of the cute little rental apartment we have been in for the past six and a half weeks.
When we moved in there from the hotel we knew we would be moving out in mid- September because of a previous booking.  We were fortunate to have found it, and to have met the terrific couple who own it, and the "homeyness" of it trumped the hotel suite without question.

But, as we are still awaiting word of our walk through date for our new home (we are getting closer …so please stay tuned), several weeks ago I began the search for our next rental.

When I noticed some pretty spectacular photos of a studio apartment with availability on one of the vacation rental sites I immediately contacted the owner who arranged  for us to see it ASAP.  We were totally sold that this was the place for us as we wind down the "home" stretch!

The owner not only offered us the apartment, but graciously is allowing us to stay as long as we need it!  We have found the folks here in SLO are as friendly as all the hype promises!  

This may be a studio, but it is pretty incredible.  It has a state of the art kitchen, complete with granite countertops, fantastic cabinets, high end appliances, and an array of professional cookware and cutlery.  It is truly an unexpected delight, especially if one loves to cook!

When my husband questioned not having a separate bedroom I quickly responded, "Look at this kitchen!"

There is also a very comfortable queen plus sofa bed, a leather chair, built in tv and fireplace,  beautiful bathroom, a high bistro table for 2, as well as a breakfast bar for 2.  And there is a large deck with a lovely view that overlooks the San Luis Obispo Creek!

If we must finish out our days before moving into our home in a studio apartment, I am definitely not complaining!   

So after moving in one week ago I found myself in the market the next day shopping to fill the fridge!

That evening we had a dinner of roasted spatchcocked chicken with lemon and rosemary, fresh Blue Lake green beans, and salad.
Spatchcocking is simply removing the backbone of a whole chicken before marinating and grilling or roasting it.  By doing this the chicken cooks much quicker, and is quite crispy and juicy.
I have to admit I was short on the marinating time cause the hour was getting late, but if you have the time to plan ahead I suggest you do it the day before and forget about it til you are ready to cook it.
Nigella Lawson has a simple recipe  for a spatchcocked chicken with rosemary and lemon.  Here it is, from her book, Forever Summer… It is delicious!
The next morning I awoke early, letting my husband sleep, and went into the kitchen with one thing in mind…pancakes!  The last time I made  pancakes was months ago sometime before our move.  
Although I don't have a griddle here, I do have a good size skillet I could use.  Without a flexible spatula they were a bit more difficult to get out of the pan, and still keep their shape,  but we are not that picky.
I set the table complete with flowers, and we sat down to a breakfast of homemade pancakes, fresh berries, bananas, real maple syrup, and applewood smoked bacon!
And my husband only had to walk a few steps from the bed to the table!
Page 2 of 28