This Passover was a very special one for us.  We celebrated the Seder ( the ceremonial dinner marking  the beginning of the week of Passover at which we retell the story of the Exodus) in our new home with our sons and their girlfriends at our table.
With 3000 miles separating us we have been unable to share  this holiday with them for many years.  And now a 3 to 4 hour drive for each has allowed us to all be together.  So you see it was a very Happy Passover for us all.
Here are a few photos to share with you…
Moving to a new home especially when it is far from your old home brings with it many firsts.  And we recently had some new friends over for our first dinner party here. 
For me, setting the table for a special dinner is fun.  I love to mix and match and see how I can reinvent items by using them in a different way, sometimes with something new added to the mix.
My Provencal tablecloth designed with olive branches which I have had for years was perfect for my Greek themed dinner.
I had picked up the napkins on sale at Anthropology  recently, knowing one day they would come in handy.  I can't resist a really good buy!
The salad plates were part of a very old set of dishes which belonged to my husband's grandmother, and I love the contrast between those and my contemporary white everyday dishes.
I kept it simple with three small glass bud vases each filled with a couple of olive branches plucked from my newly planted olive shrub on the deck. 
I lined them down the center of the table, and five clear glass votives holding white candles illuminated the table.
There is nothing that makes a table look prettier than candlelight, and I regret not taking a photo once they were lit.

The menu included some of my favorite Greek dishes.
We enjoyed appetizers on the deck.
Homemade tabbouleh , a red pepper, eggplant and garlic spread from Trader Joe's, assorted olives, and Marcona almonds kept us happy til dinner was ready.  Tabbouleh recipe to follow on an upcoming blog.
A delicious Greek salad was brought by one of our guests. 
After which we dined on my Greek Chicken and Potatoes, grilled lamb chops, Greek Style Green Beans with Tomatoes.  Homemade Tzatziki with grilled pita rounded out our meal. 
You can find most of these recipes on my Greek Dinner post, with the exception of the Tzatziki recipe so here it is…
Tzatziki- Cucumber Yogurt Dip (adapted from Lynn Livanos Athan, About.com Guide)
Cool and creamy, this tangy cucumber dip flavored with garlic is the perfect complement to grilled meats and vegetables.  It can be served on the side with warm pita bread triangles for dipping, and is also used as a condiment for souvlaki.
Ingredients:
3 -4 garlic cloves, minced finely
1/2 teaspoon kosher salt
1/4 teaspoon freshly ground black pepper
1 cup Greek yogurt, strained
1 cup sour cream
2-3 cucumbers, peeled, seeded and diced (I prefer Persian cucumbers)
1 teaspoon chopped fresh dill
3 tablespoons extra virgin olive oil
1 tablespoon white wine vinegar
Preparation:
Combine olive oil, vinegar, garlic, salt and pepper in a bowl.  Mix well until combined.  Using a whisk, blend the yogurt with the sour cream.  Add the olive oil mixture to the yogurt mixture and mix well.  Finally, add the cucumber and chopped fresh dill. 
Chill for at least 2 hours before serving.  Garnish with a sprig of fresh dill just before serving.
Recipe can be doubled or tripled if you wish.

For dessert, knowing that carrot cake was a favorite of some of our guests, I parted from the Greek theme, and baked a good old-fashioned Carrot Cake with Cream Cheese Frosting which was a real hit!
You can find the recipe here.
When the evening was over everyone went home with a full belly,  a goody bag of Tzatziki , and an extra slice of cake.
I wouldn't have it any other way!
Tabbouleh is a popular middle eastern salad.  It is traditionally made of bulgur wheat  ( a whole grain low in fat with a mild nutty flavor), tomatoes, cucumbers, finely chopped parsley, mint, onion, and garlic and seasoned with olive oil, lemon juice and salt.
Like hummus, baba ghanouj, pita and other elements of Arab cuisine, Tabbouleh has become a "popular American ethnic food".
There are many variations, running the gamut from the traditional Lebanese version which is mostly herbs and tomatoes with a sprinkling of the bulgur throughout to the  many recipes where the grain is the predominant ingredient, or any combination of herbs and bulgur.
So it is definitely something you could play around with and decide what suits your taste.
I included a bowl of tabbouleh with pita as part of my appetizers at a recent dinner.  Here is the recipe…
Tabbouleh ( adapted from recipe from Bob's Red Mill Bulgur)
2 cups bulgur (presoaked for 1 hour)
3 cups fresh parsley, finely minced
1/4 cup fresh mint, finely chopped
3-4  green onions, finely sliced
1/4 teaspoon black pepper, freshly ground
1/4 teaspoon cumin seed, ground
1/2 teaspoon kosher salt or sea salt
2 medium tomatoes, seeded and diced
3 tablespoons lemon juice
4 tablespoons extra virgin olive oil
a drizzle of extra virgin lemon olive oil (optional)
To presoak Bulgur, place 2 cups bulgur in a bowl.  Pour 2 cups boiling water over bulgur and let stand 1 hour. 
In a large bowl, using a wooden spoon, gently mix together all ingredients, except the lemon juice and olive oil. 
Add the lemon juice, toss and chill for 1 hour to blend the flavors or longer to blend the flavors. 
Before serving toss again with the olive oil, and check for seasoning
Place in a serving bowl and drizzle the lemon olive oil on top
Serve with pita, crackers or Romaine lettuce leaves
Another Saint Patrick's Day, and another corned beef dinner.  This is my favorite way to make corned beef.  It is simple, but it does take time so plan accordingly.  I didn't, so we ate late this evening, but every bite was worth it.
Glazed Corned Beef
one 4 to 5 pound corned beef brisket  (with juices)
Fill a large pot or Dutch oven with cold water.  Place the corned beef with all its' juices and pickling spices in the pot.
Bring to a boil, and then reduce to a simmer, about 180 degrees.  The key to a great corned beef is that it needs to cook low and slow.  Cover with a lid partially, and continue to cook at a simmer til fork tender, approximately 90 minutes per pound.  So a 4 pound brisket will take about 6 hours.
While the corned beef is cooking prepare this sweet mustard glaze…
In a small bowl, blend together:
1 tablespoon coarse ground mustard (Country Dijon)
1 tablespoon regular Dijon mustard
1-2 tablespoons dark brown sugar (depending how sweet you like it)
1-2 tablespoons honey (I used a wild sage honey, my favorite local honey I have been getting at the Farmer's Market)
When the corned beef is tender carefully lift it from the pot, draining the excess liquid, and place it fatty side up on a rack in a roasting pan.
Spread the mustard glaze evenly over the fat.
Place in a preheated 325 degree oven for about a half an hour or until the glaze is bubbling a bit.
Remove from oven and carve into thick slices cutting against the grain.
Serve with roasted cabbage, carrots and new potatoes.
Toss carrots, cabbage wedges, and small new potatoes in extra virgin olive oil.  Sprinkle generously with kosher salt and freshly ground pepper. Spread out on a baking sheet with rimmed edges.
  Bake in a preheated 450 degree oven for 15 -20 minutes.   Turn, and cook another 15 minutes or til browned on edges, and tender.
Insteadof the traditional way of  cooking the vegetables in that fatty broth that you cooked the corned beef in, roasting them is a delicious alternative which will allow you to have that extra slice of corned beef!
Recently I made a batch of my favorite Meyer Lemon Curd. http://dinneratsheilas.com/post/14642659492/meyer-lemon-curd
Besides slathering it on toast, scones, or muffins, it is also delicious sandwiched between gingersnaps or other cookies of your choice.
  For an elegant dessert set out bowls of assorted fresh berries along with a bowl of lemon curd for dipping, or fill mini or small tart shells with a spoonfull or two of the lemon curd and top with a little whipped cream or meringue.
But, if my husband has a vote those last couple of jars will be used to make a Lemon Meringue Pie with a Graham Cracker Crust. 
Fill a graham cracker crust (store bought or homemade), with the Meyer Lemon Curd.  It is already cold cause it's been in your fridge, so no waiting for it to cool before you whip up a mile high meringue. Slather it on, making little peaks which will brown nicely when you place it in the oven for about 10 minutes at 375 degrees.
The hardest part of this whole recipe is waiting for it to chill thoroughly for a few hours before digging in !
I have begun planting on the deck of our new home. On an early visit to one of the local nurseries I spotted this beautiful olive plant.  It is more of a shrub than a tree, and I'm pretty certain it won't bear fruit, but I absolutely love it! 
As for the olives, I can buy them weekly at the olive stand at the local farmer's markets! And I do, cause I adore olives, any size, shape, or color!
I can't express  how happy it made me to come home and plant that beautiful greenery in one of the urns I brought with me from Maryland…  a little bit of my east coast garden transported to my new west coast one.
San Luis Obispo has a Mediterranean climate, perfect for so many of my favorite plants…lavender, rosemary, hydrangeas to mention a few.
I am looking forward to learning more about the plants native to the area including some of the endless varieties of succulents that thrive here.
And I think I might finally be in the perfect place to plant that Meyer Lemon tree I have always wanted.
I had a craving for a bran muffin recently, but a homemade one. 
Since we have moved I am surprised ( and almost ashamed)  at how little baking I have done these past couple of months…
There was the chocolate cake with chocolate frosting I made for my son's birthday which we celebrated Thanksgiving weekend,  just a couple days after moving into our newly constructed home.
Actually, now that I think about it,  I had baked the cake layers the night before we moved out of our rental, froze them, and transported them to the new house knowing full well I wouldn't even have a mixing bowl unpacked by that weekend.  I made the frosting at the same time and kept that in the fridge.
So when it was time I defrosted the cake layers, let the frosting get to room temperature before beating life back into it, and spread it on the cake.
We had our birthday cake, and we could eat it too!  And, in our new house!!!
The only other baking I have done was a huge batch of these Crisp and Chewy (big) Chocolate Chip Cookies  which I have previously posted in this blog, and made numerous times.
I  discovered this time that leaving the unbaked cookie dough in the fridge for several hours or even overnight, and scooping them onto the sheet while still chilled results in an even crispier and chewier cookie.
And although the recipe suggests making them extra large (use a full size ice cream scoop to drop them) this time I made several additional sheets of small ones, and they were also really delicious. 
The best part is you can eat more and feel a little less guilty…either way you won't be disappointed. 
I've  shared some with various tradesmen who have been coming and going these past months tending to all the details to be dealt with in new construction, and they seemed to agree with me!!!
So now that I have lamented my lack of baking in my new kitchen (…it takes a long time to make a new home feel like home, and I guess I've been spending a good deal of my time doing just that),  I am happy to report that  I did make those bran muffins you see cooling on the rack at the top of this page!
This is a fabulous recipe from the renowned baker and restauranteur Nancy Silverton, and I happened upon it while looking on David Lebovitz's blog. 
These bran muffins are very light, very moist, and not overly sweet.  The orange zest is a wonderful addition.  As the recipe suggests it is best to use paper baking cups inside those muffin tins to allow for nicely shaped muffins as well as ease of removing them from the tin.
However, I had no paper baking cups (still in the process of stocking the pantry), but I was not about to let that stop me from making these delicious yet healthy muffins.  So they probably aren't as pretty as they could have been, but pretty isn't everything!  Here's the recipe…
Nancy Silverton's Bran Muffins (from David Lebovitz's blog)
Bran Muffins

Makes 12

Adapted from Pastries from La Brea Bakery by Nancy Silverton

These muffins are quite different than other muffins. For one thing, they're much, much lighter in texture. And for another, they're not very sweet.

Be sure to fill the molds so that the batter is mounded up in each tin. Next batch, I'm going to try baking them at a higher temperature, 400F (200C), and see if that gives them more height and oomph. I'll revise the recipe if I do.

2 cup (125g) wheat bran
1 cup, plus 1/2 cup (190g total) dark raisins
1 cup, plus 1/2 (370ml total) cup water
1/2 cup (120g) buttermilk or plain low- or non-fat yogurt
a few swipes of fresh orange zest (unsprayed)
1/2 cup (105g) packed light brown sugar
1/2 cup (125ml) vegetable oil
1 large egg
1 large egg white
1/2 cup (65g) flour
1/4 cup (35g) whole wheat flour
1 teaspoon baking powder
1 teaspoon baking soda
1/2 teaspoon salt

1. Preheat the oven to 350F (180C). Line a 12-cup muffin tin (with 1/2-cup indentations) with paper liners.

2. Spread the wheat bran on a baking sheet and toast in the oven for six to eight minutes, stirring a few times so it cooks evenly. Let cool.

3. While the bran is toasting, heat 1 cup (135g) of the raisins with 1/2 cup (120ml) of the water. Simmer for ten minutes, or until the water is all absorbed. Puree the raisins in a food processor or blender until smooth.

4. In a large bowl, mix together the toasted bran, buttermilk or yogurt, 1 cup (250ml) water, then mix in the raisin puree, orange zest, and brown sugar.

5. Stir in the oil, egg and egg white.

6. Mix together the flours, baking powder, baking soda, and salt, and sift directly into the wet ingredients. Stir until the ingredients are just combined, then mix in the remaining 1/2 cup (55g) raisins.

7. Spoon the batter into the muffin tins, making sure the batter is mounded slightly in each one. Because muffin tins can very in size, if your tins are larger, make fewer muffins.

8. Bake for 25 to 30 minutes, or until the muffins feel set in the center.
  For the past couple of weeks I have been more or less housebound.   An awful cold/bronchitis not only has kept me in the house, but has kept me out of the kitchen as well.  
The return of my taste buds, and my desire to get in the kitchen and make up for lost time are the best indicators that I am on the road to recovery.
Losing the ability to taste is one of those things we take for granted until  we are reminded by a bad cold or flu what it is like to be without them.
So I was excited today to spend some time rambling around my still new to me kitchen cooking and tasting as I went along.
I made a turkey pot pie with some leftover turkey breast, and was able to use up that extra piece of puff pastry that was in the freezer as the topping. 
 There always seems to be carrots, celery, and onions in the fridge so that along with some frozen corn and peas all went into the filling for the pot pie.
  A roux of butter and flour thickened some store bought chicken stock. I added a bit of  home made turkey gravy from the freezer for some turkey flavor, and ended up with a delicious sauce to envelop the pieces of turkey and veggies.
Although I was hoping to serve the potpie for dinner the smell was so intoxicating my husband and I decided to have  it for lunch. 
That turned out to be a really good decision!
Turkey Pot Pie (makes one 9x13 pan)
1 egg
1 tablespoon water
5-6 cups cooked turkey, cut into large dice
2 tablespoons salted butter
1 cup  chopped onions
1 cup sliced carrots
1 cup diced celery
2 cups chicken broth or stock
3 tablespoons of turkey gravy, optional
2 tablespoons butter
1/2 cup unbleached flour
Kosher salt to taste
Freshly ground black pepper to taste
1/2 of a 17.3 oz package (1 sheet) of Pepperidge Farm Puff Pastry, thawed according to pkg directions
2 -3 tablespoons fresh chopped parsley and thyme
Heat oven to 400 degrees. 
Beat  the egg and water in a small bowl to make the egg wash.
Saute the diced carrots, celery and onions in the 2 tablespoons of salted butter in a large skillet on medium heat til somewhat translucent.
Add the turkey to the veggies in the skillet.  Turn the heat off.
In a 2 quart saucepan heat the 2 tablespoons butter over medium heat.
Add the 1/2 cup flour and cook for 3 minutes, stirring with a whisk.
Gradually stir in the chicken broth /stock.
Continue cooking until the mixture boils and thickens, about 5 minutes.
Season with salt and pepper.
Add the optional gravy to the mixture if using.
Pour over the turkey and vegetables.
Pour the mixture into a 13x9 inch baking pan.
Unfold the pastry sheet onto a lightly floured surface.
Roll the pastry into a 13x9 inch rectangle, and gently place over the filling, sealing the edges around the rim of the pan.
Brush the pastry with the egg wash and sprinkle the chopped fresh herbs on top.
Cut several silts in the top of the pastry to allow the steam to escape.
Bake in the preheated 400 degree oven for 25 minutes or until golden brown and bubbling hot.
Cool on a wire rack for 20 minutes before cutting.
If you love cooking like I do it doesn't seem like work to make things from scratch versus buying a prepared mix. 
After all, cooking enthusiasts love the process of creating a dish from start to finish.  Call us crazy, but we thrive on it. 
Cooking and baking from a packaged mix is a convenience and time saver,  especially in today's fast-paced world, and sometimes it makes a lot of sense, but it does come at a cost…and that cost is usually a less flavorful result than what a homemade version produces.
This recipe which comes from fellow food blogger, In Jennie's Kitchen, for homemade waffles is a win win. It is convenient  and quick, and the ingredients are most likely in your pantry already.
The waffles are crisp on the outside and tender on the inside, and whether dripping with real Vermont maple syrup and/or topped with delicious berries you will want to make them over and over again.
Here is the recipe from Jennie herself…
Quick & Easy Homemade Waffles
Makes 5 to 6 Belgian-style waffles
You'll never use a mix again after you try this super easy recipe. 

1 3/4 cups flour
1 tablespoon baking powder
1/2 teaspoon salt
1 3/4 cups milk
2 large eggs
1/2 cup melted butter
1 teaspoon vanilla extract
Whisk the flour, baking powder and salt together in a medium bowl. In another bowl, beat the milk, eggs,  melted butter and vanilla extract. Pour the milk mixture over the dry mixture and stir with a fork until just combined. Let sit five minutes to "develop" (just a fancy word for letting the baking powder activate).
Meanwhile, heat your waffle iron. Pour, or ladle, enough batter to cover about 2/3 of the surface (the rest will spread once you close the top). Most waffle irons have a handy light that goes on or off, signaling the waffles are ready. A sure sign of doneness is once you see all the steam has stopped shooting out.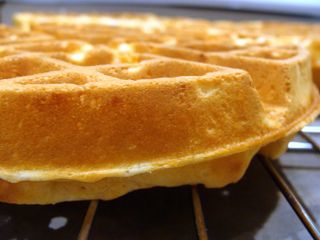 It's hard to believe that it is officially 2014, and I am still trying to catch up with blogs I wanted to post in 2013.
It has been a little over a month since we moved into our house.  While many things have not found their permanent home as yet, at least they are unpacked and the boxes are thrown out.  There is still much to do to make it home.
We took a break from it all for a couple of weeks to welcome my sister who came to spend the holidays with us, her first visit here to San Luis Obispo.
Leaving the cold and snow in Pennsylvania behind her, she enjoyed, as did we, our first Christmas and New Year's in this beautiful Mediterranean climate we are lucky enough to now call home.
Since we had just moved in two days before Thanksgiving, and I wasn't able to cook  what is my most favorite meal, Thanksgiving Dinner,  I decided that I would make a Thanksgiving Dinner  for Christmas. 
For years now,during the weeks before Thanksgiving I love to listen to the Martha Stewart Show on XM Sirius radio.  The format always involves guest chefs and callers sharing their holiday menus, both traditional as well as  familiar dishes done with a new twist.
This year Martha Stewart Living test kitchen introduced a new way to roast a turkey that I found very intriguing and had wanted to try. 
It involved roasting your turkey slathered in butter, but wrapped completely  in parchment for several hours, then raising the oven temperature, unwrapping the turkey and putting it back in the oven to brown.
Wrapped in the parchment for the majority of the roasting time really seals in the juices resulting in a deliciously moist bird. 
Removing the parchment and continuing to cook the turkey at a higher temperature for 45 minutes to an hour ensures an especially golden brown crispy skin.
Although Martha roasts her turkey stuffed I prefer to roast my Mom's Stuffing in a separate casserole dish. 
If roasting the turkey unstuffed you will want to lessen  your cooking time accordingly.
Be sure to check the temperature with an instant read thermometer.
My sister, husband and I all agreed this was a wonderful way to roast a turkey, and I'm certain I will be doing it again.
Here's the link to the recipe…
http://www.marthastewart.com/1040385/roasted-turkey-parchment-gravy
Here's Martha herself showing how it's done on The Today Show…
Page 2 of 29